Learn how to make a cat tree that your best cat friend will have fun playing on. There are several different types of DIY cat tree and play towers listed below, and every DIY enthusiast should be able to find something at their skill level and design preference. The build plan sites are also included.
Read on for our top inspirational DIY cat tree ideas.
Clever Wall-Climbing Cat Tree by Frosta X | IKEA Hackers
This sensational wall-climbing cat tree has both vertical climbing platforms plus longer horizontal extension ledges that are built on two different walls. Multiple cats can climb this fantastic cat tree to leisurely watch their human family and keep their bodies strong and their instincts sharp at the same time. Multiple platforms help keep your cats from bumping into each other.
Features:
This simple and clever DIY cat tree project from IKEA Hackers is ideal for those wanting to give their cherubic furballs a fun place to climb but lack the required floor space for a traditional cat tree build plan.
This design makes good use of often overlooked wall space instead. Take time to view the well-thought-out cat tree plans that show how this space efficient cat tree is designed to resemble a scaled back small tree. The added platform ledges act as branches for the felines to rest while keeping track of the world below their lofty hiding place.
DIY Details: IKEA Hackers
Build a Modern Cat Condo with Fun Toys Using Wood Crates | Mother Daughter Projects
If you happen to be a cat lover who is also concerned about the negative human impact on our beautiful environment, then this homemade cat tree should be right up your alley. Why not build your cat a modern condo that is complete with fun toys using repurposed wood crates?
Features:
The beauty of this DIY cat tower is that some of the materials listed can be substituted for similar ones that you might already have on hand. This design was crafted by a thrifty and creative mother/daughter team of DIY enthusiasts. See their project blog with build plans here.
Basically, the material list is old wine crates, yard sale and thrift shop wooden trays, wood crates, leftover wood and a few screws, paint if desired and carpet remnants are about all that is needed. For the toys, natural rope and twine fashioned into batting balls and a scratching post make this urban cat dwelling absolutely "purrfect" and practical. Best of all, it is better for the environment.
DIY Details: Mother Daughter Projects
Build This Super Simple Homemade Cat Tree | Instructables
This resourceful and fun building project was designed by a mom with a son in scouts needing a building project that could be donated to their local animal shelter. See their DIY cat tree blueprint here.
Features:
The easy-to-follow and use blueprint plans are in a step-by-step format. Materials are also leftover project items or discarded items like carpet and wood scraps. Make one or 10 and donate the rest. The simple instructions are terrific for older kids just learning how to build things.
DIY Details: Instructables
Super Chic Carpet-Covered Cat Tree with Hammock | Pickle Perfect
This very cool tall carpet-covered cat tree includes a lazy day hammock for those cats that seem to sleep all day. This striking yet easy-to-make DIY cat tower has lots of platforms that cats love and several great scratching areas to keep their claws sharp and healthy. This neat feature can help save your furniture from scratches as a bonus. This build plan is from Pickle Perfect.
Features:
You will see this chic cat abode truly has everything a finicky feline could ever want. There are multiple platforms, lots of carpet areas for scratching fun, a hiding spot and a low hanging hammock for sleepy days or nights. The diagrams are somewhat small and hard to read, but for an experienced or middle-of-the-road DIY enthusiast, the plans should work fine.
DIY Details: Pickle Perfect
How to Build an Escape Wall & Adventure Center for Cats | Instructables
This is a DIY cat tree for those adventurous cats who are lucky enough to live with creative humans that like artwork on their walls. This cat tree design can combine different functions into one great center that is interesting and irresistible to curious cats.
Features:
See the entire design build plans at Intructables.com. We rate these plans for experienced builders who can follow a basic blueprint. There are steps, platforms ledges, a cubed area for books, a swinging rope bridge, tunnels and a plywood cat cutout shelf that is delightful.
DIY Details: Instructables
Build a Real Cat Tree That's a Gorgeous Work of Art | By Brittany Goldwyn
This impressive DIY cat tree is crafted to look just like a real tree with leaves and everything. The bottom of the tree sets inside a platform tray filled with attractive natural stones. This is a beautiful artistic cat tree that can be placed just about anywhere. The tree also has lots of scratch action and several different height platforms for kitty to pounce on and get a better view.
Features:
We like that this tree looks so stunning and yet is so fun and useful for entertaining your cat. The build plan can be found from a DIY genius named Brittany Goldwyn here. Although this build plan does require certain materials that will have to be found, the actual build instructions are pretty detailed and are worth the time and effort for more experienced DIY builders out there.
DIY Details: By Brittany Goldwyn
Consider This DIY Labyrinth Cat Tree Idea | Instructables
This is a very tall and extra sturdy cat tree that can be a terrific maze to lure your kitty over to explore all the many functions and places embedded in this project plan. This project does take time to complete. There are lots of cuts that need to be made exactly for the pieces to fit together as the end project here looks.
Features:
This build plan does allow for some freedom with creativity. The builder can use fabrics and materials that they like or just happen to have on-hand. Most of the wood is plywood that can be found relatively cheap. More experienced builders will be able to take these plans and customize them to suit their preference. The build plan for this fantastic DIY cat tower is found here.
DIY Details: Instructables
Comfy & Cozy Cat Condo Idea with Baskets | HGTV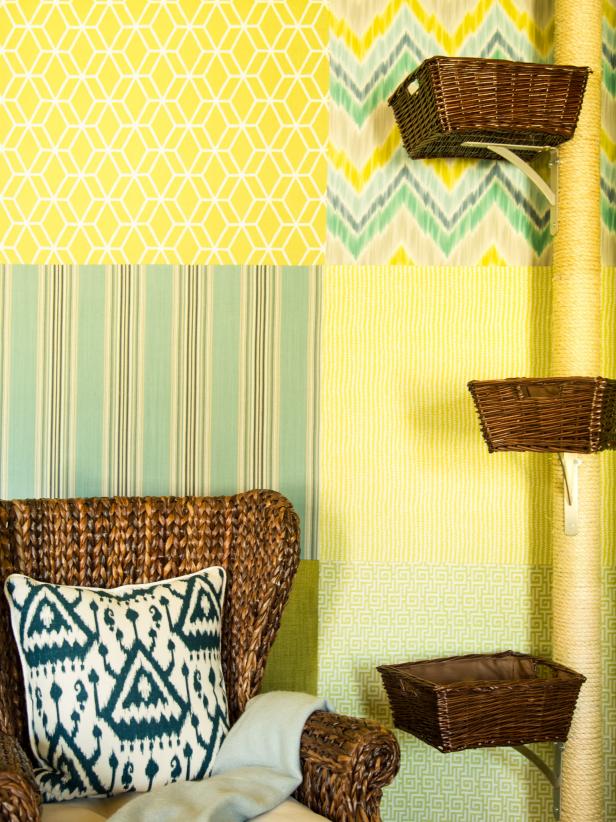 This is a phenomenal idea that requires little materials or effort to pull off. You will need PVC pipe, several baskets, rope and brackets. It is rather simple in its design structure, and your kitties will enjoy sitting down in the baskets rather than just being visible for all to see. Find the detailed instructions on the HGTV site here.
Features:
This DIY cat tree tower is cleverly put together using a simple design that will blend right into the decor style of the room it is placed in. Just tie in some of the same colors. Note how great the rattan furniture looks next to the similar baskets. These texture and color accents help to give a space increased depth and visual interest. Not to mention that your shy or aloof felines will love to hide in the different baskets.
DIY Details: HGTV
Let Your Cat Explore the Universe with This Star Trek Inspired Cat Tree | Instructables
If you have long been a fan of the Star Trek TV series and movies, then this will take your cat up into the galaxy. The plywood pieces are wrapped in burlap and other materials, and the design resembles that starship that we all know and admire. Find the build plans by Hatstand 4510 of Living found here.
Features:
This build design does require some experience with working with woodworking tools and cutting out more difficult shapes. However, for those that are naturally creative and love a challenge, the instructions are detailed enough to follow along nicely. The best feature is that this is rather inexpensive especially if you have the necessary tools already.
DIY Details: Instructables
Transform a DIY Corner Cabinet into a Divine Cat Condo | Hometalk
If you just happen to have an old corner shelf standing around, consider transforming it into a cute cat condo like this one fashioned by DeeDee from Hometalk's Instragram. These types of shelves can often be found for a few bucks by scouring your community yard sales, flea markets and estate auctions. This specific cat condo has a strip of carpet on each side of the shelve front and on all the interior shelves over the top side. This allows the cats to get plenty of climbing and scratching action.
Features:
Although this project requires a corner shelve, there are other build plans with directions on making this type of corner shelve yourself. Otherwise, the material list consists of a few boards, carpet remnant and padding, longer lag screws to secure the shelve into the wall for your cat's safety while using this fun cat condo. Paint and some other supplies are easily obtained.
DIY Details: Hometalk
Build This Ultimate DIY Cat Tree | Eamon Walsh DIY
Give your feline the ultimate DIY cat tree that consists of several platforms, ramps, toys, scratching post, hideaways, tunnels and more. Your cat is sure to think this multilevel platform is the cat's meow. Find the build plans conveniently explained on a short YouTube video by Eamon Walsh found here.
Features:
Spaces and square blocks for hiding, sleeping, climbing and chilling all combine in this adorable kitty abode. If you enjoy seeing how-to videos in action, then this is the project for you. This video gives clear instructions and can be stopped and fast-forwarded as desired.
DIY Details: Eamon Walsh DIY
Let Your Cat Soar to New Heights with This High-Rise Kitty Platform Tree | Instructables
Some cats seem to love climbing up on tall items to watch the goings on underneath them. This very tall high-rise kitty platform tree is easy to put together in 21 steps. LindaRose92 posted a how-to of this lofty cat tree design on the Instructible.com site. There is even a customizable cat house to make any nearby dog a bit jealous.
Features:
This cat tree can be made for next to nothing with materials laying around the home or workshop collecting dust. It is a basic design made with wooden curtain rods, some cardboard tubes, scrap wood pieces, old remnant carpeting, twine and a glue gun. The instructions included are quite good and explanatory.
DIY Details: Instructables
Create a Rustic Real-Tree Cat Play Tower | Southern Revivals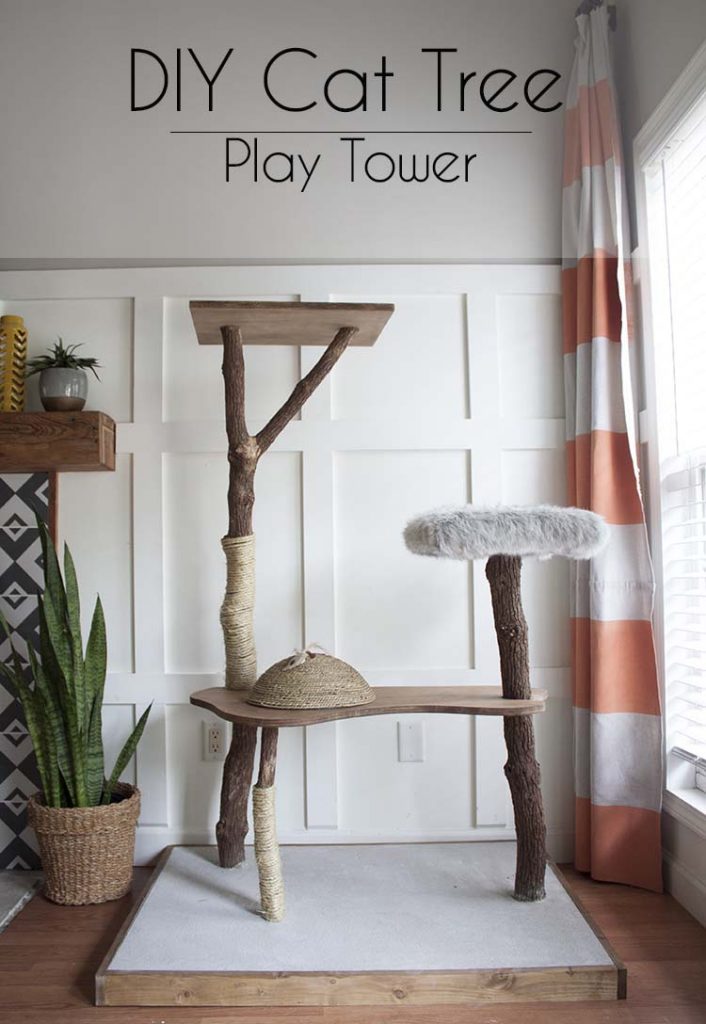 Perhaps your home is a bit more relaxed with farmhouse furnishings and country accents throughout. This DIY cat tree is created from real tree branches mixed with odds and ends in an eclectic design style by Southern Revivals. The step-by-step how-to instructions are precise and simple to follow. There is a bit of a story beforehand, so if you want to get right to the project, scroll down until you reach that part.
Features:
Choose real tree branches similar in size to ones shown. The base is made of concrete with a plywood frame and a few platforms. Get a generous roll of jute rope, your choice of plush fabric scraps and gather your power towels and glue gun together as listed on the supply list. The instructions are well laid out with helpful pictures too.
Tip: If you have never worked with concrete, there is even a section on this for added convenience.
DIY Details: Southern Revivals
Cute Cat Cabin in the Mountains? Try This DIY Cat Combo Climber/Condo | Ana White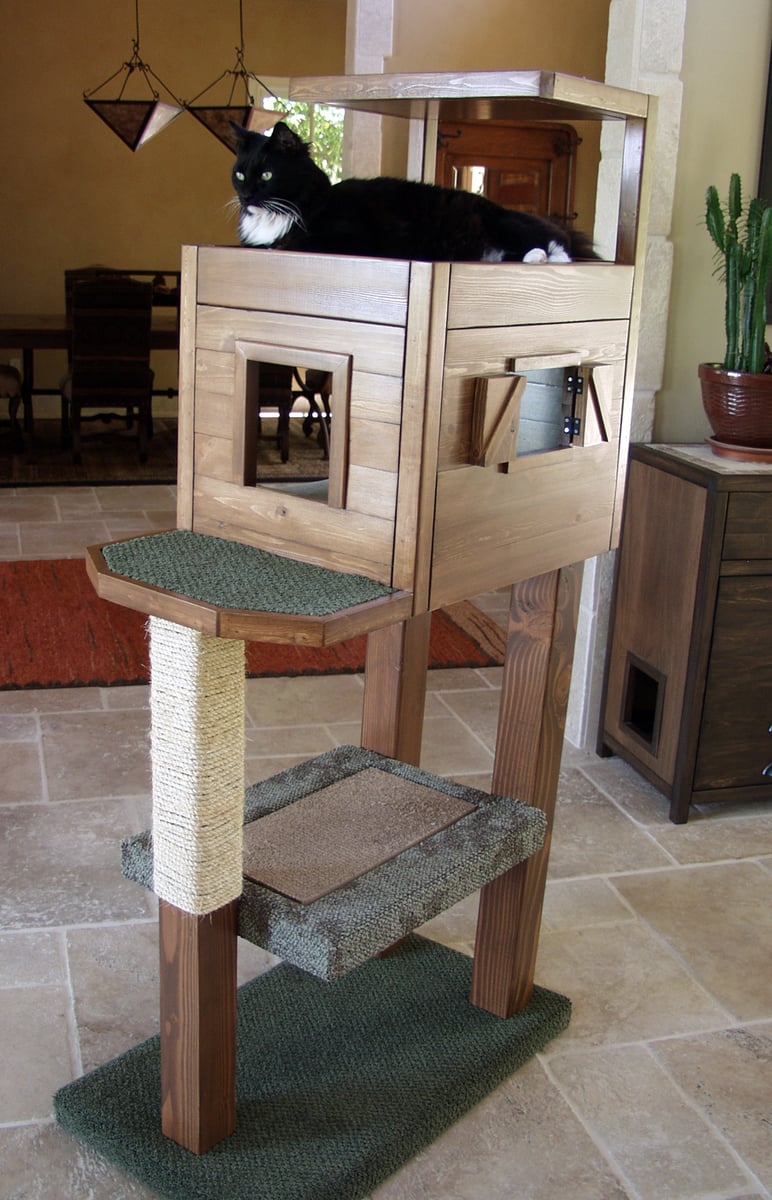 Cats are natural born hunters at heart. So, maybe your feline is dreaming of staying in his/her own cute cat cabin high above their usual home. Try this charming DIY cat combo climber/condo from a renowned DIY project blogger named Ana White.
Features:
This DIY homemade cat tree is suited for people who already have some woodworking and building skills. However, the entire project can be completed for $30 of supply purchases. This enclosed cabin perched atop the beautifully crafted cat tree offers your prissy feline an upscale cabin in which to hide in watching everything happen below.
The step-by-step how-to instructions are some of the best we've seen and come with nice pictures too. This upscale luxury cabin cat tree offers a penthouse level and a higher viewing deck and would look lovely in any home environment.
DIY Details: Ana White
If you prefer a more minimalist decorative style, then these elegant and minimalist cat perch shelves are ideal for those purposes. These shelves are sleek and can give your kitty a few practical resting platforms at different heights. This kitty perch project is designed by Tatiana from the IKEA Hack website.
Features:
This project requires a few lack shelves of different sizes. These are covered with carpet remnants to give your feline some scratch action too. The sleek design blends well in any environment, and the clean lines prevent the space from looking cluttered. There is also another DIY cat tree build plan that sits of the floor.
DIY Details: Tatiana's Delights
Natural Wood DIY Homemade Cat Tree with Multiple Platforms | Instructables
Cats will love this twisted juniper cat tree made from real wood tree branches that felines can scratch away on to their heart's content. This DIY build project does require some woodworking skills and tools. This specific tree was fashioned by Juniper tree wood.
Features:
There are several styles of cat trees on this site. Go to this site to view project and click on the LaxCreations Website for build plans.
DIY Details: Instructables
Attractive & Cheaply Made Varied Platform DIY Cat Tree | Instructables
This DIY cat tree is crafted out of an old kitchen unit, artificial turf, a free carpet tubes and some odds and ends. The result is an adorable cat tree that has several platforms for perching and looks like a small tree that won't take up much room. Find the build plan here by 316ideas.
Features:
Cheap to make homemade cat tree offers fun and games for adventurous felines looking for a new environment to stalk potential prey or watch their beloved humans from a different angle. This project used coconut fibers for the mats featured which is less expensive than sisal rope. The instructions are good, and there is a cute video of the finished tree with cats playing on it.
DIY Details: Instructables
Fast & Super Easy Low-Cost Kitty Condo Plan | Dadand
Cat lovers looking for a fast and simple weekend project will find this one a cinch. This fast and super easy to make low-cost kitty condo plan is from Dadand.com with build plans on a PDF.
Features:
This project takes little time, effort or money. The build plans are all together on a small diagram and the details are short, but
the average home project weekend warrior should have no problems.
DIY Details: Dadand
How to Make a Simple Cat Play Tower and Cat Tree | Wikihow
This is another terrific how to project from PippaElliott on the Wiki how-to site.
This how-to home cat tree project has some great ideas and features several methods in one article. The instructions are detailed, and this project should be no problem for creative persons that are familiar with reading from detailed patterns that use illustrations rather than actual photos.
Features:
This design makes use of an old ladder which is a cool and inexpensive method to build a cat tree. There are also video sections if desired.
DIY Details: Wikihow
Build Your Cat a Desk-Side Cat Tower with Compartments | Instructables
With this cool cat DIY project, you can bring your pet to work even if it is only your home office. Give your cat something to do close to where you have a desk. Build this trendy cat tree tower that has customized compartments that your kitty will love to explore.
Features:
This cat tree is designed by ArthurB24 with build plans located here. This is also a space-saving design, and the material list is minimal. The instructions are in a 9-step format with pictures. Medium woodworking skills recommended.
DIY Details: Instructables
Build a Cheap but Fun Cat Tree Out of Cardboard | Hamster Zone
This incredibly easy and cheap cat tree built out of cardboard can give your cat endless hours of fun. The build plan resembles a tree house complete with ladder, compartment platforms and batting toys at the upper level.
Features:
Fun times for your feline are right around the corner. This DIY cat tree project is best for just one cat as cardboard is not as sturdy as other materials. Nice parent and child weekend project. Watch the build plan construction on YouTube here.
DIY Details: Hamster Zone