Like many other people, I love a DIY project, and if you're looking for a new one, try a homemade shower curtain. While it may be easier to go out and buy one that might not even go with your decor, a DIY shower curtain is a much better option. If you make your own shower curtains, then you get to choose the pattern and color.
Here are 15 of our favorite DIY ideas to make your own shower curtain. So, stop settling for those plain, store-bought options, and check out these DIY shower curtain ideas. Not only will it make for beautiful, unique home decor, but you can show it off for years to come.
The Stencil Paint Project
Who doesn't love a good stencil project? Stenciling is a great way to get a unique design without meticulous effort. The best part is that everything will be uniform. So, you don't have to worry about design flaws or freehand mistakes.
Cutting Edge Stencils came up with this plan in a blog post on their website (linked below). All you need to get started is a drop cloth, stencil, foam roller, tape measure and scissors, and you'll be ready to make your own unique shower curtain. You can choose any color paint that you want, and you can select from multiple stencil options that Cutting Edge Stencils offer.
You'll need space on the floor for this project to dry. So, make sure you can do it where kids or pets won't find it. Most paint won't wash easily out of fabric, so you don't have much to worry about when it comes to fading. The blog breaks down the steps nicely for DIY beginners, so don't be afraid to give it a try.
DIY Details: Cutting Edge Stencils
Sew It Yourself
If you're a fan of embroidery, then this DIY project is perfect for you. Even if you're not as familiar, this is a great way to get started on a new hobby. Design Love Fest has come up with a unique idea to make that drab, cotton shower curtain pop. If you already sew, then you may already have some necessary supplies in your home.
For this DIY project, you'll need a cotton shower curtain, yarn, a sewing needle, a ruler and scissors. Overall, it isn't very complicated. Most of your time will be spent getting the design ready to go. After that, you can just pick out your yarn colors and get ready to sew.
The style of the embroidery means that this shower curtain can't easily be washed. It must be done carefully to avoid undoing your sewing. Check out Design Love Fest's blog linked below, and try it out.
DIY Details: Design Love Fest
Ribbon Accents
This idea from Little Gray Table is stunning, yet very simple. Their method uses Heat and Bond Tape to act as a sewing replacement to line the bottom of the shower curtain with ribbons. All you need to get it done is a shower curtain, ribbon, Heat and Bond tape, scissors and an iron. This is a great method if you want a DIY project that is easy with little to no mess.
Heat and Bond Tape is machine washable. So, you are free to wash your shower curtain whenever you need to. Using ribbon gives you the creative freedom to decide colors, thickness and textures. Check out their blog below for specific details.
DIY Details: Little Gray Table
Patchwork Pattern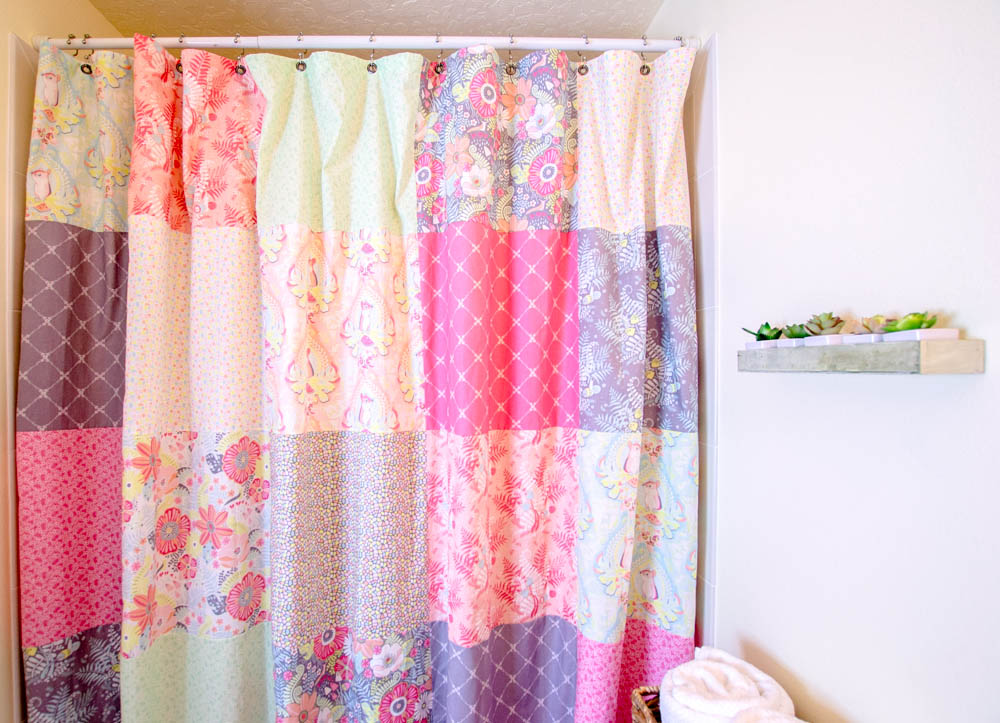 This idea is best for people who are used to sewing or patchwork. According to Sew She Can, all you need to do is get between 20 and 25 patches of your choice. Then, create your own shower curtain by sewing together those different patches to make a unique design.
This project will be easy if you have quilting experience, but the blog goes into plenty of details to help you out, if needed. The curtain can be washed as you wash all blankets and quilts, but it should not be your primary shower curtain. You'll definitely need a liner for this one. Check out Sew She Can's website to see if this is the right DIY project for you.
DIY Details: Sew Can She
Personalized Print
The Beautiful Mess blog has a great way to personalize an otherwise boring shower curtain with a phrase of your choosing. All you need for this DIY project is a shower curtain, paint, stencils, iron and a paintbrush. Using the stencils, you paint a phrase of your choosing on to an otherwise boring shower curtain.
If you're a little lost on how to make it work, their blog has detailed, step-by-step instructions for you to follow. This is a great way to make your shower curtain unique and give it your own personal touch. As long as you follow the steps they laid out, you will be able to wash it when needed without fading.
DIY Details: A Beautiful Mess
Vinyl Sticker Fun
This is another fun DIY shower curtain project by the Beautiful Mess blog. This one is a little more complicated. It requires a clear shower curtain, scissors, color vinyl paper and a printer. Choose a design that you like, print it out and stick the vinyl paper to the clear shower curtain to create your own unique design.
This works well because the vinyl paper is waterproof, so you don't have to worry about it peeling off after a shower. This is a unique idea that you can really get creative with, but it only works if you have a printer. If you want some more information, check out their blog post below for details of what type of printer they used and step-by-step instructions.
DIY Details: A Beautiful Mess
Beaded Brilliance
The best DIY projects are the easy ones, and this one does not disappoint. All you need to complete this project is a shower curtain, a beaded curtain and curtain rings. I love the simplicity of this idea mixed with the beautiful finish.
All you need to do is align the beaded curtain with your shower curtain, and you have a unique shower curtain that people are sure to be impressed with. This idea keeps the shower and beaded curtains separate. So, you can still wash the curtain as needed without involving the beads.
The only downside is that beads are very tempting to children and pets alike. So, keep an eye on your curtain in case your cat decides to play with those fun hanging beads. Check out Kishani Perera's blog below for more details.
DIY Details: Kishani Perera
A Valance to Remember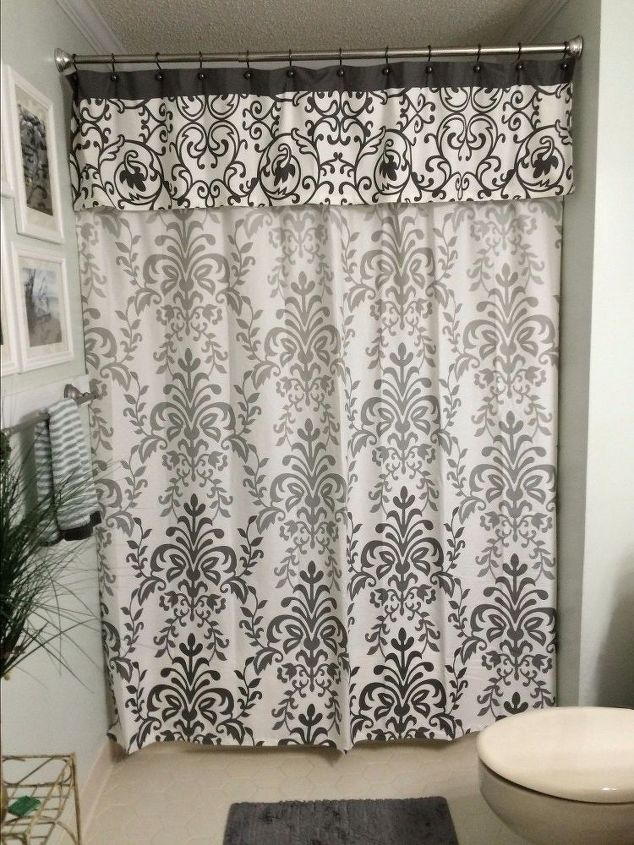 This is another very simple idea for a unique DIY shower curtain. The Home Talk blog gives the idea of combining 2 shower curtains to add a valance effect. You can buy two of the same curtain to add texture, or you can choose to go for something a little more exciting.
This project allows you to choose from two different designs that flow nicely together. Because these curtains aren't being altered, you are still free to give them normal care and expect them to last. So, check out the Home Talk blog to see their example and try it out yourself.
DIY Details: Home Talk
Get the Length You Want
This idea is great for those if us dealing with taller showers and baths. Sometimes, the standard length curtains just aren't enough, and I can't stand when my shower curtain is too short. Room for Tuesday has a great DIY hack to get your shower curtain as long as you want it to be.
They suggest buying an extra long shower curtain and hemming it yourself to achieve your desired length. Check out their blog for some helpful hemming tips and details of where they bought the supplies.
DIY Details: Room for Tuesday
Painting Panels
This idea by Dwellings by DeVore is a great way to get a shower curtain with whatever colors you choose. All you need is curtain panels, tape and paint to get started on this DIY project. Follow the design on the blog, or create your own design with tape. Either way, this is a great DIY trick to get a shower curtain that perfectly matches your bathroom decor.
Because paint rarely fades from fabrics, you will be able to wash it whenever you need to. If you are trying this DIY project make sure that you have enough room to lay out the curtain on a flat surface to paint it, and also make sure that you have a place for it to dry without pets or children being exposed to the wet paint. Check out the blog post below for instructions and advice on how to easily accomplish this unique idea.
DIY Details: Dwellings by Devore
Another Stencil Round
This is another great stencil DIY for those who are interested in more delicate looking designs. An Oregon Cottage gives details on how to achieve this unique look with stencils, paint, drop cloth, tape and a sewing kit to hem the cloth, if needed.
The great thing about stenciling is the freedom to choose whichever stencil and color paint that you like, but be aware that intricate designs take more time to accomplish. Make sure you also buy the appropriate size brush for the stencil size as well, to keep you from making mistakes.
DIY Details: An Oregon Cottage
Ruffles, Lace and Everything Nice
This DIY project is a great option if you like layering fabrics. This look can be accomplished quite easily by adding layers of fabric to an existing curtain. Add some ruffles, lace or even different colors to the bottom of the fabric to give your shower curtain the unique look you've always wanted.
This project does require a base level knowledge of sewing and fabrics, but the blog does give some helpful details about where to find products and what to do with them. So check out the blog for more information on how to make this beautiful shower curtain yourself.
DIY Details: Sew A Fine Seam
For Sweater Weather
A shower curtain made out of a throw blanket may sound a little odd, but stick with me on this. Maybe it's her confidence or her endless wit, but Lynne Knowlton really seems to know what she's talking about with this idea. All you need to make it happen is a shower curtain liner and a throw blanket, and you can have this unique design done in no time.
Washing will be easy because it's just a blanket, and you'll have plenty of length options to choose from because blankets come in all sizes. Lynne goes into detail about her process in the blog. So, even if you're new to the DIY scene, you'll have plenty of help along the way.
DIY Details: Lynne Knowlton
To Dye For
This blog discusses dyeing your shower curtain to get the color and pattern that you want. If you have dyed fabric before, then you have a bit of a head start. However, if this is your first time, the In Color Order blog has some helpful tips to help you get started. In the blog, they also talk about how to get specific designs when dyeing. So, check out the blog below if this option suits you.
DIY Details: In Color Order
Striped Drapery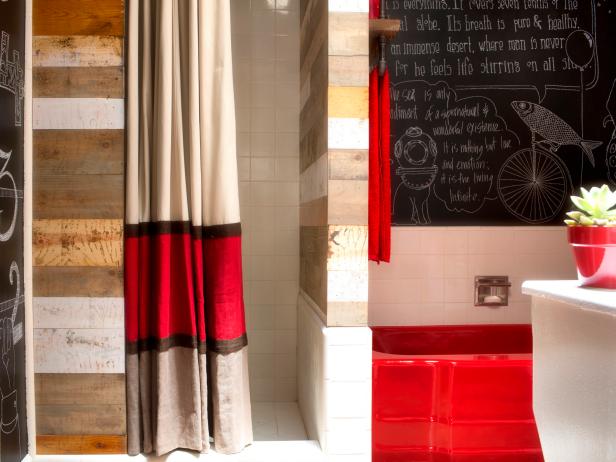 This DIY project is a little more intricate than some of the others, but it has a great payoff. The final product is unique, however the project involves glaring, sewing, taping and planning. If you've done something similar before, then this won't be hard for you at all.
For beginners, it may seem a bit overwhelming, but the HGTV blog has detailed instructions to get you through. There isn't any details on whether or not it can be washed, but the use of glue implies that you should avoid it, if possible. Check out the blog below.
DIY Details: HGTV