DIY string art can be an incredibly entertaining hobby — but not everyone can think of all those string art ideas on the fly. Fortunately, we're here to show you that there's not much you can't do with a sturdy surface, some nails, and colored yarn.
After all, this kind of craft is so versatile! You can use it to create your kids' favorite animals, superheroes, and other thematic decorative items!
In fact, we have put together 40 amazing DIY projects from all around the Internet to give you some insight into what's possible. However, in the interest of presenting the best string art ideas you can use, we decided to include some pictures that don't have tutorials attached to them. But don't worry.
Once you get the hang of the way other people have done their DIY string art projects, you'll see that tutorials aren't strictly necessary, anyway. With that in mind, let's dive into our list of projects!
Animals String Art
DIY Nursery String Art
This adorable reindeer string art is the most quintessential kind of project you can do as nursery decor.
As you can see, Jen used a 7 by 9-inch piece of wood and some green string to achieve an animal silhouette. She printed out the basic shape she was going for and put it over the board then put nails directly through it.
After nailing the shape, just rip the paper off and start weaving the string around. We would even suggest getting your kids in on this — as long as you don't think they'd hurt themselves in the process.
DIY Details: One Little Momma
The Elephant String Art
Next up, we have an adorable elephant silhouette string art that showcases how you can play with color. Namely, before putting in your nails, you can always paint your board.
Here, we see that the base for the elephant is white with pink sides, to match the embroidery floss used in the original project. But really, you can apply that idea to any of the string art ideas we're about to discuss.
DIY Details: A Crafted Passion
The Bird String Art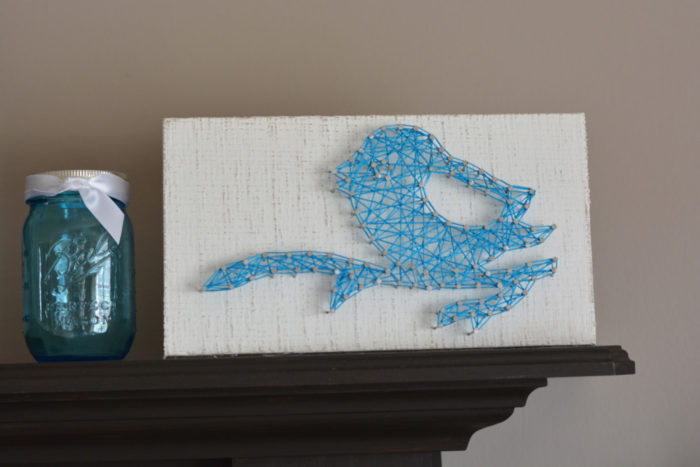 Now, this bird DIY string art project proves that we don't have to have the whole picture ready when we start putting the nails into the board.
If you check out this tutorial, you'll see that the silhouette shape on the original silhouette printout was upgraded in the final result to fit the dimensions of the board. So don't be afraid to experiment and improvise, even when you're working with nails!
Still, we have one tiny bone to pick with this tutorial. Namely, the board was painted white even though it wasn't sanded. While that kind of textured result might be great for other projects, we find that the string adds plenty of character to DIY string art without there being a grainy base.
So if you want to achieve an even base color, we recommend sanding the board before putting in the first nail.
DIY Details: Slap Dash Mom
String Art: Otis the Owl
Now, while the previous three animal string art ideas were a bit more relaxed and easy to achieve, this one may take some forethought. Still, we wanted to include the project — and not only because of the complex weave pattern.
This DIY string art also shows how we can paint elements on the base before putting in the nails — as well as utilize negative space.
As you can see, the creator of the tutorial purposely left almost half of the board empty to draw attention to the cute owl on the bottom half.
Even so, we can't help but notice that the nails may be a bit distracting in this case. If you agree with us on that point, you can always paint the heads to match your string — or even the base.
DIY Details: Nine Red
Woodland Animals String Art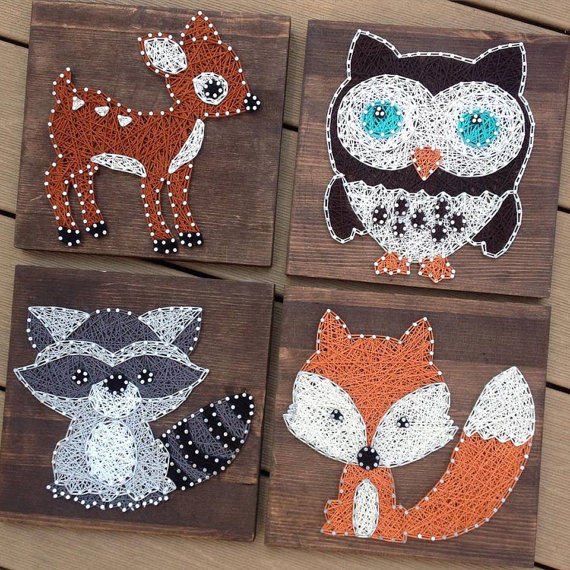 For our last project idea in this category, we simply had to show you these adorable animal string art ideas even though we don't have a tutorial you can follow.
These four cuties were up for sale on Etsy — though the listing no longer exists. Still, by now, you should know how to achieve any of these even without a tutorial.
Just get a square board, paint it, if you want to, and print out the shape of these adorable animals to nail into. After ripping the paper off, you'll have a base you can weave your embroidery floss into.
But once again, we recommend painting the nail heads to match the string around them. For example, if you're recreating the fawn project, you can paint the nails around its body brown and do the nose, hooves, and eyes black.
DIY Details: Cool Creativity
Star Wars String Art
Darth Vader and AT-AT Silhouettes
Like most people that haven't been living under a rock for the past fifty years or so, we love all things Star Wars! So naturally, we wanted to include some string art ideas that express our appreciation. To begin with, we have this iconic Darth Vader silhouette.
The original project requires a horizontal board, some small nails, and three thread colors. But if you ask us, you may be better off using just the black and red, without the white edges. If you must have a colored edge around the black silhouette, we recommend using the red thread.
In any case, if you want to see exactly how this project was made, you'll find a helpful video at the bottom of the tutorial on trumoonstudio.com. Even if Darth Vader isn't your thing, you'll also see some pictures of the iconic AT-AT walker in string art form.
DIY Details: Tru Moon Studio
Rebel Alliance String Art
If you don't mind going through a few extra steps to get the perfect DIY string art piece, this project is perfect for you. Before you start tapping the nails in, you'll want to spray paint your wood black or gray.
Later, you can use a red string if you want the Rebel Alliance logo to pop. Alternatively, if you're looking for something more subtle, you can use black string on a gray base or vice versa.
DIY Details: Cut Out and Keep
Stormtrooper Helmet Design
If you thought Otis the Owl was complicated, think again! This Stormtrooper string art project puts that birdie to shame — if you can pull it off. Needless to say, we don't think you'll be able to achieve this result with young children doing the weaving.
Of course, before you get to use your embroidery floss, you'll want to prepare your base. To do that, you'll want to paint a square MDF board matte black all around. Pepper from Pepper's Crafts also used grayscale comic book spreads to add visual interest to the base.
After that, she printed out a guide to use as a reference for the nail placement. Finally, she used white thread for the main parts of the helmet and finished off with some black outlines, letting the comic book background peek through the eye and chin areas.
DIY Details: Peppers Crafts
Five Star Wars String Art Ideas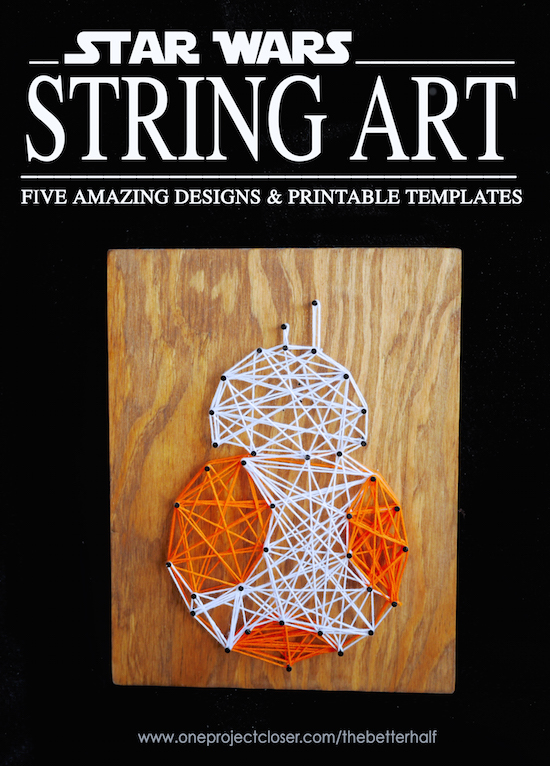 Now, Jocie from One Project Closer didn't do just one Star Wars-themed string art project. Instead, she had five string art ideas to share with us — complete with five fantastic templates.
Naturally, the BB8 template is our favorite, but the rest are nothing to scoff at either! Whichever one you end up choosing, mind the size of your thread! Some of the results here look a bit strange because the floss is either too thin or too thick.
DIY Details: One Project Closer
Baby Yoda DIY String Art
It's no secret that The Mandalorian blew us all away. Of course, the innovative plot of the show is only partly responsible for our collective obsession. Little Grogu certainly had a part to play in establishing the show!
But whether you know him as Grogu, the Child, or, simply, baby Yoda, you can't deny that the little guy is adorable. If you want to have a string art version of him, this is the best template we've found.
Still, if you've never done a string art project before, we recommend taking it up when you're a bit more skilled with embroidery floss!
DIY Details: Ruffles and Rain Boots
Superhero String Art
Full-Body Iron Man String Art
Since we've already discussed Star Wars, let's get into another Disney property — Marvel comics!
We don't know about you, but we haven't been able to stop thinking about Iron Man's emotional exit from the MCU. So if you want to make a Tony Stark shrine in your home, here's your centerpiece!
Like the Stormtrooper helmet string art we've previously shared, this project starts with a grayscale comic book background. After you apply that, you'll transfer a full-body Iron Man template to the board and tap your nails in along the main lines.
Finally, you go in with your yellow and red strings, and finish up with black outlines. And if the straight-ahead pose is a bit too boring, you can opt for a more dynamic one, instead.
DIY Details: Peppers Crafts
Iron Man Mask
If you don't want to waste materials on a full-body pose, you can always opt for a headshot instead — and that goes for any superhero of your choice.
This particular Iron Man Mask string art piece is another one of those items that were up for sale on Etsy but are no longer available. So if you ask us, you might as well make it yourself.
DIY Details: no source
DIY Captain America Shield String Art
As iconic as Iron Man's costume is, some heroes are more recognizable by their accessories. Take, for example, Captain America's legendary vibranium shield!
To complete the DIY string art project you see here, you'll need a blue base and some red and white embroidery floss. Aside from that, the tutorial includes clear instructions for achieving the orderly weave of the concentric circles.
You'll just have to make sure that each of the nails has the same amount of space on either side before you start using your thread.
DIY Details: Second Chances Girl
Wonder Woman Shield
Obviously, we can't discuss string art ideas featuring superheroes without throwing some DC into the mix! To transition between the two, let's talk about this Wonder Woman shield project.
Unlike the previous idea we shared, this one requires you to fill the space between the nails more densely. You'll also need to use blue, yellow, and black floss as well as red and white.
Unfortunately, there's no tutorial we can point you to, so you'll have to figure out how to get these results by analyzing the nail placement.
Of course, you don't have to recreate this specific shield. Wonder Woman has had some fantastic shield designs over the years. So if you want a more subtle representation of your fandom, work from those templates instead.
DIY Details: no source
Batman String Art from A Turtle's Life For Me
Our next DIY string art project from DC's superhero roster is arguably the company's most popular character — Batman! We love the simplicity of this project.
All you'll need is a black board and some yellow string. And if you don't like seeing those silver nail heads poking out, just paint them yellow to match the Caped Crusader's logo.
DIY Details: A Turtle's Life for Me
Justice League Plaques String Art
Lastly, we wanted to show a selection of string art ideas you can use for a group project. You'll need as many wooden plaques as you like and paint that will provide a contrast for the superhero logos you'll be making.
As you can see, the original project used Wonder Woman, Batman, Superman, and Green Lantern logo templates. However, you can use pretty much any superheroes' logos for this, no matter which company made them.
Additionally, you can make the strings themselves as dense or sparse as you want. We think that the style that was used in the original project is pretty interesting. However, some of the logos can get pretty lost if you don't use enough thread.
DIY Details: Life with Grace
Word String Art
Interesting Fonts for Spelling Out Names
Next up, let's talk about the different string art ideas you can use to spell out your kids' names or anything else, for that matter. To begin with, let's hear from Jesse from Nine Red, who has some color and font suggestions for our DIY string art endeavors.
Just look at the color gradient he managed to do in the first project with the Remachine font! And putting those stars in the background was a nice touch too!
While we're at it, we can't forget to admire the Showcard font signs too. Even aside from those two projects, Jesse's blog is full of inspiring craft ideas.
DIY Details: Nine Red
Swirly Joy String Art
While we're on the subject of different interesting fonts you can use, check out this wonderfully swirly project?
The gradient effect was achieved by densely threading one string color on one side of a letter and letting it become more sparse toward the other side.
Then, you'd get another color and do the same from the other end of the letter, until they met in the middle.
DIY Details: Dear Mckenzie
Black Background Word String Art
This charming DIY string art tutorial is great if you want to stretch your graphic design skills a bit. Rather than printing out a word in a font she liked, Tara from Girl Like the Sea drew guidelines on a piece of paper and wrote in her own font. The result looks absolutely unique — so why not put your own twist on it?
DIY Details: Sewing Rabbit
Reverse String Art
Now this is a really interesting idea you can use for many of the crafts we've been discussing, particularly for silhouette art. All you have to do is transfer a word to your base and follow it up by tapping nails into the perimeter of the board as well.
Then, instead of weaving the thread within the word, connect the dots between the nails that make up the word and the ones around the edge of the board.
In this case, the creator worked with a premade arrow-shaped board, which is another great item you can use for any of the crafts we've been talking about. And, as we'll discuss later, some string art ideas don't even require a wooden surface!
DIY Details: Infarrantly Creative
Inverted Gradient Word String Art
If you're looking for a spin on the inverted string art project we just discussed, check out this tutorial from We Are Scout. Lisa used a white square board with blue sides and a mix of navy, blue, and green thread to create a true work of art.
The two letters in the middle of the board, OK, are left bare, while the strings create a circle of colors around them. As we have previously mentioned, this kind of inverted string art should also work well with any other silhouette design.
DIY Details: We Are Scout
Nail & Yard Wall Art
Remember when we said that you can make any sturdy surface your string art base? Well, here's the proof. This tutorial will show you how Jen turned one of her walls into a string art masterpiece.
You'd just need to measure out the guidelines for your letters and nail in the phrase of your choosing.
Alternatively, you could also put any of the other designs we've mentioned directly on a wall. But whatever you do, use a thicker thread to complete the project — embroidery floss probably won't do.
DIY Details: Jen Loves Kev
String Art Ideas for Individual Letters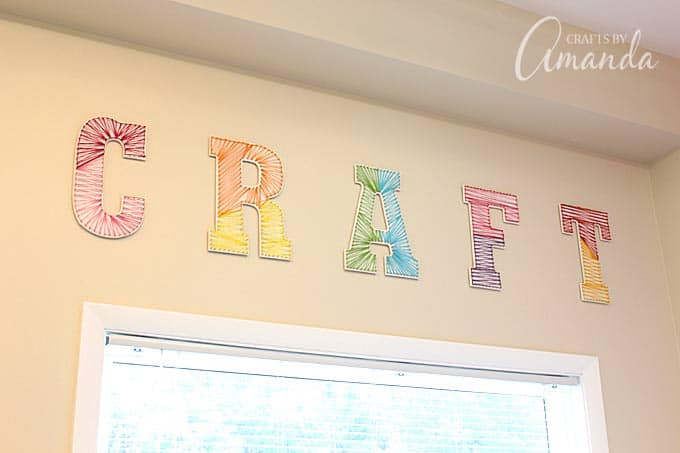 Now, you can also do individual letters on separate wooden boards. But if that's something you want to do, you can always use pre-made MDF letters from Hobby Lobby. That's exactly what Amanda did to make this tutorial.
She also used different colored strings to finish each letter, though she didn't make much of an effort to blend the colors. If that's the look you prefer, you'll want to pack the thread on more densely at one end of the letter and disperse it around the middle.
DIY Details: Crafts By Amanda
Holiday String Art Projects
DIY Wood Slice Christmas Ornaments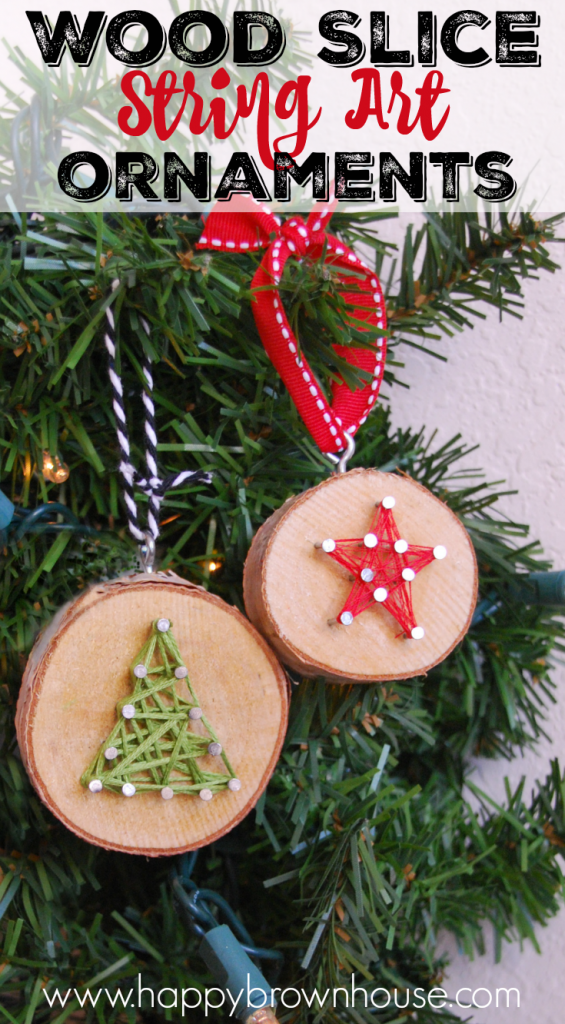 The next and, perhaps, the most plentiful category of string art ideas we've prepared is full of holiday-themed tutorials.
To begin with, let's go through some festive Christmas crafts — starting with these jolly tree ornaments.
You'll need some wood slices from a craft store, small nails and embroidery floss, and eye hooks.
After weaving the designs, twist eye hook nails into the side of each ornament and finish them off with a colorful ribbon.
DIY Details: Happy Brown House
Super Simple String Christmas Tree
While the previous tutorial on our list included a Christmas tree motif, this one lays the design out in simpler terms.
You start by tapping one nail into a board, then broaden the tree to three nails, then six, and so forth, until you reach the size you want. Connect the nails with green thread and you get a simple, linear evergreen tree design.
Maryann from Domestically Speaking even painted some of the bronze nail heads silver to spice it up.
However, you could also use red, yellow, blue, and other colors and have the nails act as your ornaments. And if you want to make this even more interesting, you can paint a frosty background on the board before even tapping the nails in.
DIY Details: Domestically Speaking
Artful Christmas Tree Art
On the other hand, if you'd prefer to have a more interesting Christmas tree design, try making one like this. Unfortunately, this image doesn't come with a tutorial since the string art piece in question was bought at a local shop, but still — we can guess how it was made.
After tapping the nails haphazardly to make up the sides of the tree, just weave two colors of green thread side to side until you achieve the desired effect.
Finish up with a yellow star on top of the tree and paint the nail heads whichever colors you prefer. In this case, the creator also added white snowflakes next to the tree and painted the words "merry & bright" below.
Between the rustic wooden base, the string art, and the painted details, you can easily make this quaint piece yourself!
DIY Details: Instagram
Reindeer String Art
Now, we've already had one deer string art design on this list. But if you want to know how to make that piece even more festive, this tutorial will help.
After tapping the linoleum nails into a dark wooden base, use silver thread to set the magical mood.
As you can see, the creator made the original piece pretty sparsely woven — but that just makes it better, in our opinion! And if you want to go all out, you can top it all off with a glitter dot garland.
DIY Details: Clean & Scentsible
DIY Snowflake String Art
If you're still looking for string art ideas to use next Christmas, check out this snowflake design. As with any of the other projects on this list, you'll just need to download a pretty snowflake template and tap in the nails.
The rest is pretty simple — unless you start with bare boards you'll have to cut into thinner strips, reattach, and stain. If you're not ready for that kind of commitment, just buy a pre-stained piece of wood at any craft store.
DIY Details: Erin Spain
St. Patrick's Shamrock String Art
As winter melts into spring, we can start preparing for the next major holiday — St. Patrick's day!
Alright, so even if that's not the main springtime festival, we can all still appreciate Ireland's patron saint. Even if you're not celebrating, you can't deny that a fresh shamrock is a lovely symbol of the season.
With that being said, we recommend planning for the stem — something that doesn't seem apparent in the original piece.
Just move the two heart-shaped leaves on the sides up and don't connect the nails in the middle. That should make the whole thing feel more cohesive.
DIY Details: The Kim Six Fix
Pumpkin String Art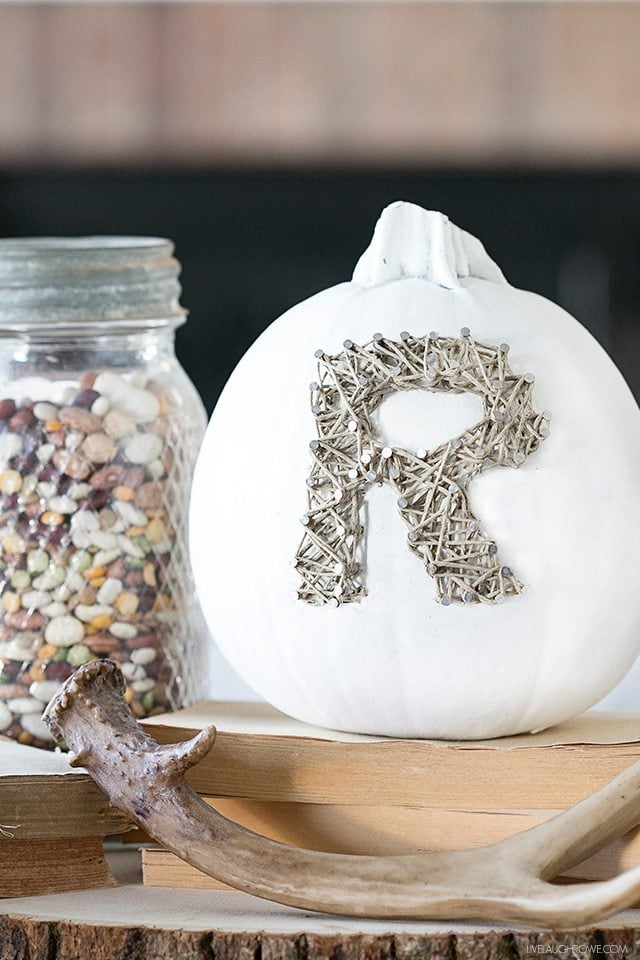 Finally, it's time for Halloween string art ideas. The first one uses an actual pumpkin, painted white, as the base. Kelly from Live Laugh Rowe nailed in a simple letter design. Then she used plain hemp twine to complete the piece.
However, you can always leave the pumpkin as is — after all, orange is the color of the season! What's more, you can choose any letter or silhouette design you like.
Basically, instead of carving your pumpkins, you can make DIY string art out of them. And if you keep the nails shallow, you'll be able to eat baked squash a few days later.
DIY Details: Live Laugh Rowe
Flower Pumpkin String Art Ideas
If you like the idea of having pumpkin string art in your home but don't want to desecrate a gourd, do it the old-fashioned way.
Just get a board, tap the nails into it through a template, and weave orange string through. As a final touch, you can put a few fake flowers in through the top — we love the way that looks on Sugar Bee Crafts!
The tutorial we've linked to also contains other spooky and floral autumnal designs. So before you settle on the one we've highlighted here, have a look through the rest of them!
DIY Details: Sugar Bee Crafts
Skull String Art
What's Halloween without a skull or two? If you want to really bring out the spookiness of the holiday, go for this anatomically correct skull silhouette. Naturally, you'll want to paint the base black first, then go in with white thread.
You could even try to make it more realistic by adding nails to the temporal ridge and each of the teeth too!
That would allow you to change the direction of the thread as you weave it around the nails, making the skull appear three-dimensional! That would certainly be an awe-inspiring centerpiece for your Halloween decorations.
DIY Details: A Beautiful Mess
Miscellaneous String Art
Kitchen Wall Art
Like the Christmas ornament project we suggested, this kitchen string art requires a piece of wood that looks like an actual tree cutout. It even has bark around the edges. But really, if you don't find a similar board at Hobby Lobby, a regular wooden plank should do just fine.
As you can see, the original project depicts the silhouettes of a spoon and a fork, so it'll be the perfect addition to your kitchen or dining room.
There are thick, black outlines on the board itself, so the nails were applied after the drawings were made. Lastly, Emma from A Beautiful Mess haphazardly wove thin black thread around the nails.
At this point, we might have pointed out that you can conceal the nail heads by painting them black too. However, since the rest of the project is so minimal, we find that the silver nail heads actually add visual interest to the piece.
DIY Details: A Beautiful Mess
State Inspired Nail & String Art
Next up, if you want to express your state pride, this DIY string art project will help you do just that. You'll need a board — we recommend getting a plaque with tapered ends if you want to display the piece. It just looks classy!
After painting the base your favorite color, or even the state colors, and waiting for it to dry, you'll be ready to transfer the shape. Print out the shape of your state so it's about as big as your board and tap small nails into it.
Then, use your handy embroidery floss — and again, you can choose your state colors — to fill in the design. As an alternative, you can add nails along the perimeter of the board and fill in everything outside of the state instead.
DIY Details: Semi DIY
Abstract String Art
Lest you think that working with nails is a requirement for making string art, here's a project that uses a simple needle and thread instead.
If you're more of a painter than a craftsman, you'll love this idea. You'll just need to get a canvas and some acrylic paints — do your thing — and spice it up with some thread.
The creator of this piece just made some triangles, but you can basically embroider whatever you want on your canvas. If you look up embroidered paintings, you'll find plenty of other motifs you can play around with.
Just remember to tie a knot near the end of your thread and when you're done, push the needle through to the back of the canvas and tie it off again. It really is as easy as that!
DIY Details: Darcy Apparel
Sunflower String Art
Before you decide that this project is much too complicated for you, think again. This gorgeous sunflower string art is the result of an easy-to-use string art kit! It should give you everything you need, down to the exact placement of the nails.
In fact, the kit contains a board, a template, seven colors of embroidery thread, and some nails. It also includes two screws and a metal hanging hook you can attach to the back of the board.
You'll even get instructions that explain how to achieve the effect in the picture. So if you still don't have any original string art ideas even after going through our list, just order a kit like this one.
DIY Details: String of Heart
Hearts & Love String Art
Love Rustic Yard Sign DIY String Art
If you were feeling slighted about the fact that we missed Valentine's Day-themed crafts, this last category of string art ideas should make you happy.
Of course, you can display these designs at any time, whether you're decorating for Valentine's Day, commemorating an anniversary, or you're just a hopeless romantic!
This Rustic Yarn Sign from My Simple Obsession is the typical Pinterest project. However, it may require a bit more effort than the other crafts on our list. To begin with, you'll need to get a large slat board and some molding to create a frame for it.
After you paint and connect those two with metal braces, print out your "LOVE" sign and nail the outline.
Alternatively, if you want to achieve the same result you see in the pictures, you can use screws. When you're finished with the base, weave in your yarn and display the piece!
DIY Details: My Simple Obsession
Red Heart String Art
If you're looking for romantic string art ideas that are more understated than the one we have just described, try this one from Green Wedding Shoes.
You'll need a square piece of wood, a printout of a pleasing heart shape, nails, and thread. As always, the wood will probably be the most expensive part of the project.
In the original craft, the creator used thread pretty sparingly, letting the base color be visible through the heart.
We love the look of the final result! But, if you want to, you can combine any of the DIY string art ideas we've mentioned with this one. You can create a color gradient, paint the background, or even invert the string parts!
DIY Details: Green Wedding Shoes
Inverted Heart String Art
Speaking of inverted heart designs, here's an example of what that might look like. Mindy from Sugar Bee Crafts used five thread colors to create a rainbow shooting out of the heart in the middle of the board.
However, if you want to use a white base too, we recommend getting white or silver nails to go with it. Alternatively, you can paint the nails the color of the thread.
DIY Details: Sugar Bee Crafts
Love: Modern Typography String Backdrop
As we have established, some string art ideas are too awesome to be contained to a tiny piece of wood.
This project shows how you can transfer string art to outdoor settings. Rather than using a small board or even a wall, you can put your nails through a wooden fence!
In this case, the creator clearly did it for a wedding. The words "MY BELOVED" were spelled out in big, colorful letters behind the newlyweds' table.
Obviously, this project requires long screws that can get into the wood while still leaving enough space for the thread.
You'd also have to use thicker yarn, and quite a lot of it — depending on the words you wanted to spell out. Lastly, if you want your installation to last more than a few days, protect it from the elements.
DIY Details: Wedding Obsession