Are you looking for an activity to keep the family occupied during the Easter holiday? DIY projects are an excellent option for kids of all ages. They decrease screen time, especially during long breaks where kids may be tempted to keep an eye on the screen for the whole day.
Some easy Easter crafts are DIY garlands to decorate your house for the coming holiday. They are cute and don't require much expertise or materials to make. You may even have the materials to make some of these garlands in your home already.
Looking for more great Easter Decorating ideas? Be sure to check out our post on DIY Easter Wreaths when you're done here.
Easter Egg Garlands
This adorable garland is simple to make, although it may require adult supervision. This garland is incredibly cool because it can be used as a soft, colorful light source in a room. The site has simple, easy to follow instructions, and the tutorial is straightforward and helpful. This garland will get you into the fun Easter spirit.
If you're looking for a simple craft, look no further. This simple spring garland is as easy as it gets. Find glitter easter eggs from any nearby craft store, and this tutorial takes care of the rest. Since the tutorial is so simple, it's also easy to customize, if you're so inclined. Whatever you choose to do with this simple craft, it will be fun and adorable.
This tutorial is a prize simply because of the unique way the eggs are painted. Any home do-it-yourselfer is perpetually looking for new and unique ways to craft, and this tutorial certainly delivers.
Although it is a relatively simple garland, it is rustic and pretty. It isn't a statement, but it is an excellent way to add a festive mood to any room.
If you're working with smaller children, gluing and stringing might be a little too much to handle, and luckily, this garland has your back. Potato stamps are easy for young hands to handle and stamp. An adult is required to put the garland together, but kids can have a great time dipping and smacking their potato stamps down onto paper.
If you're looking for a garland that will last years, this is the perfect solution. This clay garland can be painted to serve as a reminder from past years of family time and art skills. This DIY is not the quickest project, but for mothers who love to make lasting memories, this is a keeper.
If you don't have a huge budget, this easy to follow guide will help you make a simple but cute Easter egg garland. Paint swatches can easily be found at home improvement stores for free, and the rest is easy if you take a quick read through the tutorial.
If you want to bring the festive spirit into your home, this is a great option. The simplicity of the project makes it ideal if you need multiple garlands to string around various parts of the house, and the bright colors hammer home the festive spirit.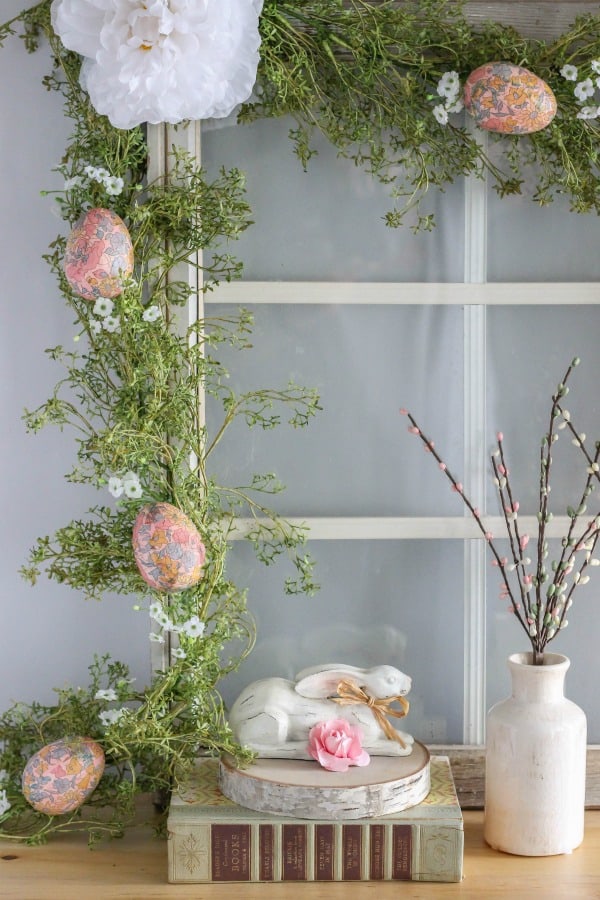 If you have a family of more advanced DIYers on your hands, this rustic decoupage garland is a more complex project that is nevertheless worth the extra work.
This garland is more customizable than many others, and it's gorgeous, great for a more subtle festive look. Luckily, even though the project is more complex, the tutorial is helpful and very explanatory.
This craft is a throwback to DIYs of old. One of the oldest tricks in the book is to use liquid starch to create string balls or eggs to decorate your home for the holidays.
If you don't remember exactly how to use liquid starch, this tutorial can refresh your memory and make your crafting easier than ever.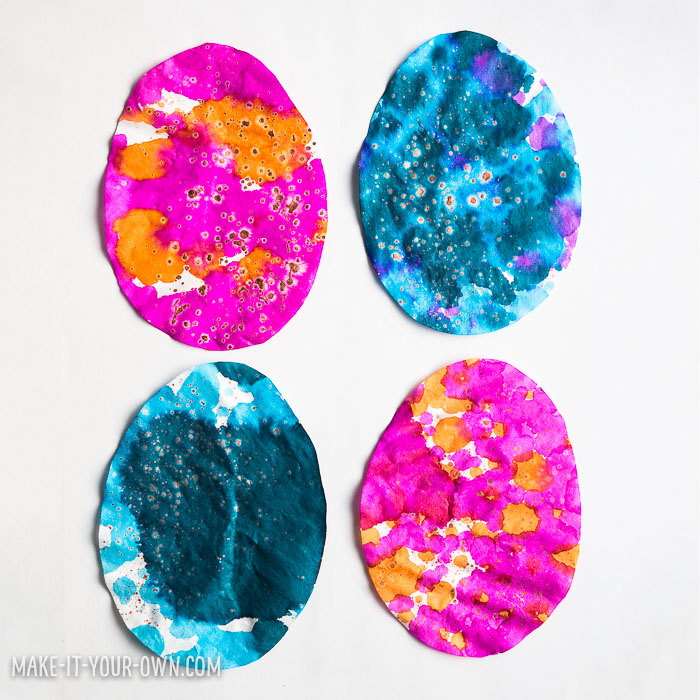 If you want a more abstract take on an egg garland, use this spatter technique to create an artistic look. It requires a few more materials than most, but the result is gorgeous, as is clearly seen in the tutorial.
Keep their tips and tricks in mind to recreate their beautiful results.
Crayon resist art is always fun to show to kids. Something is amazing about the wonderous look on their face when they see the magic for the first time. This garland, although a little messy, is super fun to try out with kids and especially easy for the younger kids in your household.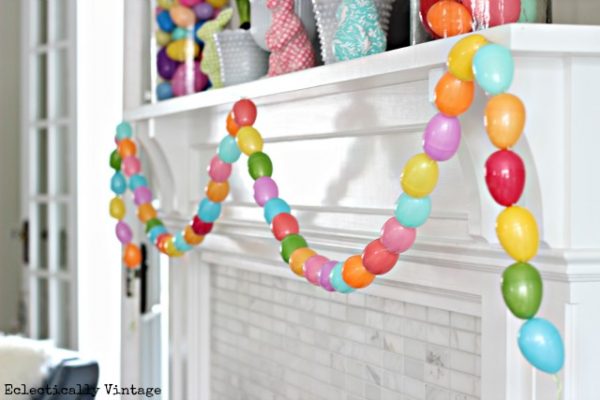 This colorful Easter DIY project is so simple to make, all it takes is a bag of plastic eggs and some twine, ribbon, or yarn (I used bakers twine for mine). Just string the eggs together and BAM! You have a beautiful garland for decorating walls or your fireplace mantel.
Easter Bunny Garlands
Have you ever made homemade pom-poms? If not, now is a great time to start. They are simple, cute and so easy to make, you'll be amazed. This great tutorial walks you through creating a pom-pom and attaching the cute pom-pom to a little bunny butt.
Now that you've had a taste of pom-poms, take a look at these adorable bunnies. They're all fluff. These cute fluffs will bring the festive spirit anywhere, and if the first tutorial wasn't helpful enough, this one is sure to help you figure out how to make pom poms.
With just paper and scissors, you can make an adorable and simple pastel garland of cutout bunnies. This tutorial couldn't be more simple. Just download the printable PDF file, and you're on your way to making an adorable garland. Use whatever colors you want to inspire a more subtle or a more festive mood.
This garland is another simple banner, but it can be fun to do with small children who are just learning the concept of gluing and coloring.
Of course, the pom poms are supposed to be the tails, but the kids don't know that. Let the kids go buck wild, and you'll gain an especially unique Easter banner to hang across doorways or mantles.
Although this is a more complex garland, it is also more unique, and the tutorial will make it easy enough to finish in a snap. Soon these adorable felt bunnies can be hopping all-around your house.
If you aren't looking to make a garland, these bunnies can also be a fun toy for kids.
Here's another banner for the rustic types that don't want to disrupt their cool aesthetic for brightly colored bunnies. These burlap bunnies are a more involved craft but are still relatively easy.
It's also an enduring project that can be brought out again and again for years to decorate and remember fun memories from years past.
Origami is simple and oh-so-chic. This garland is defiantly a more time-consuming project, but if you have a lot of time on your hands over the break, it can be a perfect way to create some cute bunnies.
Even if you are a first-time origami student, don't fear. There is a great video tutorial included on the website to make sure you grasp the origami aspect.
We all know Peeps as the ultra-sugary sweet that any kid can't get enough of all Easter. If your kids are as obsessed as every other, they'll love helping with this fun Peeps banner. Although it is a little more involved, there are plenty of ways for kids to help.
There's something about book pages that adds a touch of class to any craft project, and this Easter DIY bunny garland is no exception. The only materials you'll need are some old book pages, twine, and cotton balls. As for equipment, if you have scissors, a hole punch, and a hot glue gun you are good to go!
I might try these this Easter with some old, water-damaged kids' Easter board books I've had sitting in storage for a couple of years. Old comic books would look pretty cool too, but you may need to mount them on some sort of stiff card stock.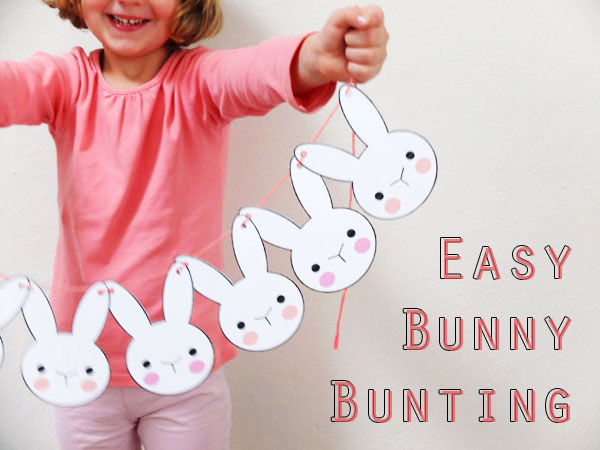 Here's another super cute Easter craft so simple the kids can do most of the work themselves (although there is some cutting involved!) Just download the PDF file from My Poppet's site, print these cute bunny heads out on card stock, cut them out, stitch them together and you have a kid-friendly garland perfect for decorating an Easter party or Easter egg hunt.
Carrot Garlands
These felt carrots use very little felt and very little thread to get the job done, and they still look adorable. If you're looking for a low-maintenance craft to get the festive spirit across, this is a unique way to do so.
Although this tutorial offers little instruction on how to find the burlap carrots, it provides a fantastic idea for a unique banner for Easter. Sometimes all you need is some inspiration to get you going on your way.
If you're more of an independent crafter, this is a great idea that will give you plenty of inspiration. Maybe it will inspire you to craft your burlap carrots.
If you're looking for a more explanatory method than the last, here you go. These jute carrots come complete with a helpful tutorial; it will guide you step by step through the process and get you a similar result. Pick your favorite based on the level of guidance that you enjoy in your crafting.
These adorable knit carrots come with an easy to follow pattern and a festive glow. They are easy to thread, and if you have experience with knitting, you'll find this easy to follow and complete.
This garland is a unique banner that you won't find anywhere else and will make your decorations your own.
Artsy Craftsy Easter Garland Ideas
If you're looking for a sillier decoration, these silly chicks are perfect. With their bobble eyes and crazy feathers, these are sure to inspire a laugh out of any guest. They're simple to make, too, easy enough to allow kids to have fun with making these silly guys.
If you're looking for a use for all of those Peeps you managed to gather during the holiday, this is a good excuse not to eat them. Like a popcorn garland, a Peep garland can be a festive way to make sure the kids aren't on a perpetual sugar high throughout the break.
Sometimes Easter decorations are bright. If you have a more minimalistic theme in your household, it may feel wrong to put up such bright decorations. If that's the case, try these simple, neutral egg garlands on for size. The simple eggs are festive without being too much for the most minimalistic plans.
If you're looking for something to keep the kids busy on Easter morning, the garland in an egg carton is the perfect solution. Just gather the supplies ahead of time, pack them up in an egg carton, and your set to let the kids craft in the morning instead of eating a pound of sugar.
Can't get enough pom poms? This garland should do the trick. Although it's not inherently Easter themed, using pastel colors is the perfect way to turn a regular pom-pom garland into a fun and festive Easter decoration.
Just follow the step by step instructions, and you have a guide to making a cute, puffy, pom-pom garland.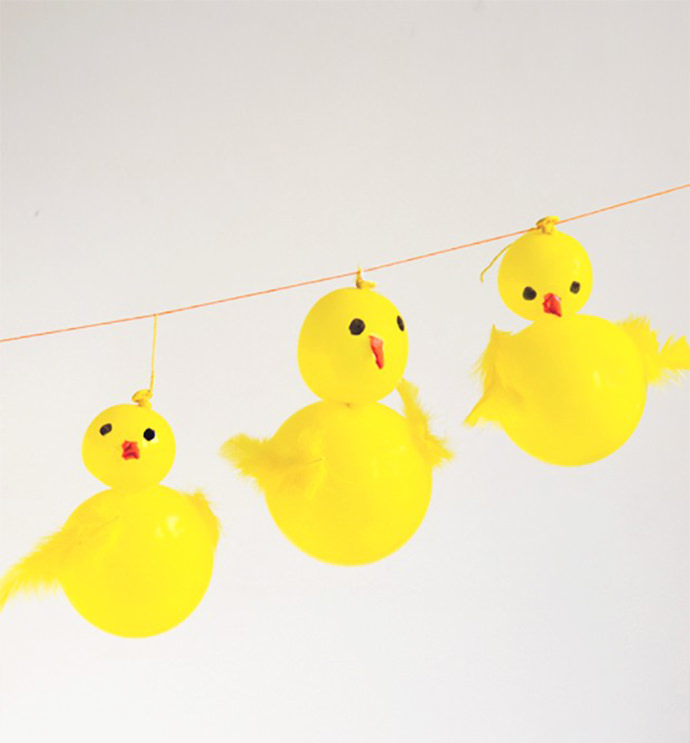 This funny bird balloon garland is sure to bring a smile to the face of any child and is a great Easter garland decoration. They are fun to string up and fun to bop around after the fact. Just make sure you don't leave young children unattended with balloons, as they are dangerous.
These Jelly bean garlands can be a use for uneaten Jelly beans after the holiday, or they can be a fun advent calendar of sorts counting down to the holiday. Either way, the sugar intake is spread out somewhat, and the holiday is a little more festive and a little less crazy.
If you want to remind your visitors about why we celebrate Easter, this garland would be a good choice. Another super simple printable project; just print, cut, punch and finish it off by stringing some bakers twine through the holes. You can get the printable template over at A Heart Filled Home.
That's it for the garlands! If you want some great Easter craft ideas geared more towards adults be sure to check out our post which is aptly titled – DIY Easter Crafts for Adults.